Pest Dictionary
Ants, though tiny, are a mighty problem. Not only can they be carriers of bacteria – often kind enough to share that across your pantry as well – but they can also enter homes through the tiniest cracks, making them hard to stop if they've decided your home is theirs. Since ants can create colonies of up to 500,000 in nearly any type of space – including in walls, in lawns, and even under your foundation – and relocate easily when threatened, their removal can be tricky to effectively execute without the help of a professional. Likewise, they like to live: worker ants can live for nearly 7 years, while their queen may live a staggering 15 years. While do-it-yourself methods can effectively get rid of the ants you see, the problem persists with the ants that you don't. Different types of ants also require different treatments to permanently remove from your home. But, that's what we're here for.
We can deal with all kinds of ants including:
Common Black Ants
Carpenter Ants
Little Black Ants
Cockroaches, famous for their survival skills, make horrible house guests: mostly because they don't like to leave.
Most often, if you're seeing these bugs, you're facing a huge infestation. Cockroaches play hide and seek to win and, with centuries of experience, are likely better at it than you are.
Similarly, their eggs, which are conveniently cased in a protective, insecticide-resistant capsule, ensure roach infestations last, with each individual capsule containing dozens of eggs. For example, female German cockroaches, a common Canadian cockroach, can deposit 30-40 eggs in each capsule and may lay 5-6 capsules per lifespan.
Incredibly adaptable and intelligent insects, cockroaches eat nearly anything – including glue, leather, fabric, soap, and all common pantry items – and easily move from room to room, making infestations wide-spread and difficult to eliminate without the right tools. In fact, the only thing they're unable to survive is a visit from us.
Some people like to say spiders are the most misunderstood pest, but that doesn't make it any easier to share your house with them.
Northern Alberta is home to over 40 types of spiders. As unwanted house guests, spiders can be annoying: they leave unsightly webs and they can reproduce by the thousands. While most spiders in Canada aren't poisonous and aren't known to transmit any diseases, they remain a common fear for many people.
Likewise, while spiders can help control the population of more dangerous insects, seeing them in your house in great numbers could also be a sign of a greater pest problem. After all, spiders don't stick around unless they have something to hunt.
Though they don't stick around once we start hunting them.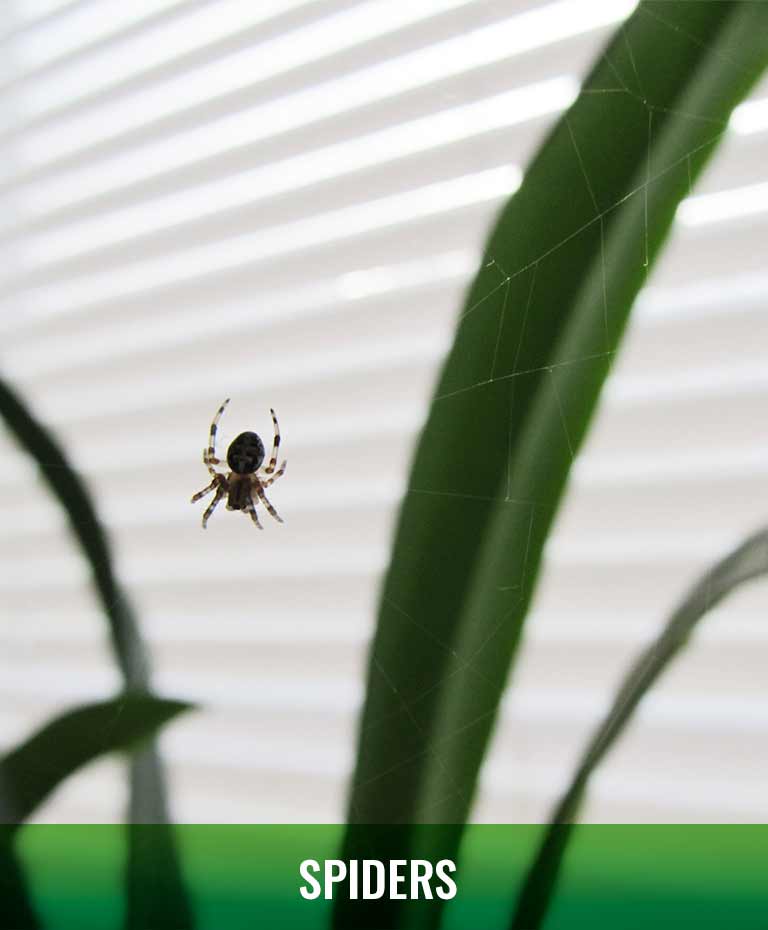 Nobody wants a mouse in their house, let alone dozens of them.
Yet, a small infestation of a few mice can quickly overrun your home. Content to live outside in the summer, these rodents often infiltrate your house when the weather begins to cool. And, with the ability to reproduce up to 8 times a year – with around 6 mice per litter – these rodents can quickly become a serious problem.
Though unlikely to bite humans, mice can be detrimental to human health, potentially carrying and spreading diseases through their waste and their very presence. They're attracted to warm places with consistent food sources, and only require a dime-sized opening to access any potential home.
While they prefer to hide, they are often caught running along walls or scurrying away from a usually-undisturbed hiding spot. And, though they're often quiet, they do make distinct noises that can be audible to human ears. So. Ready to get the mice out of your life?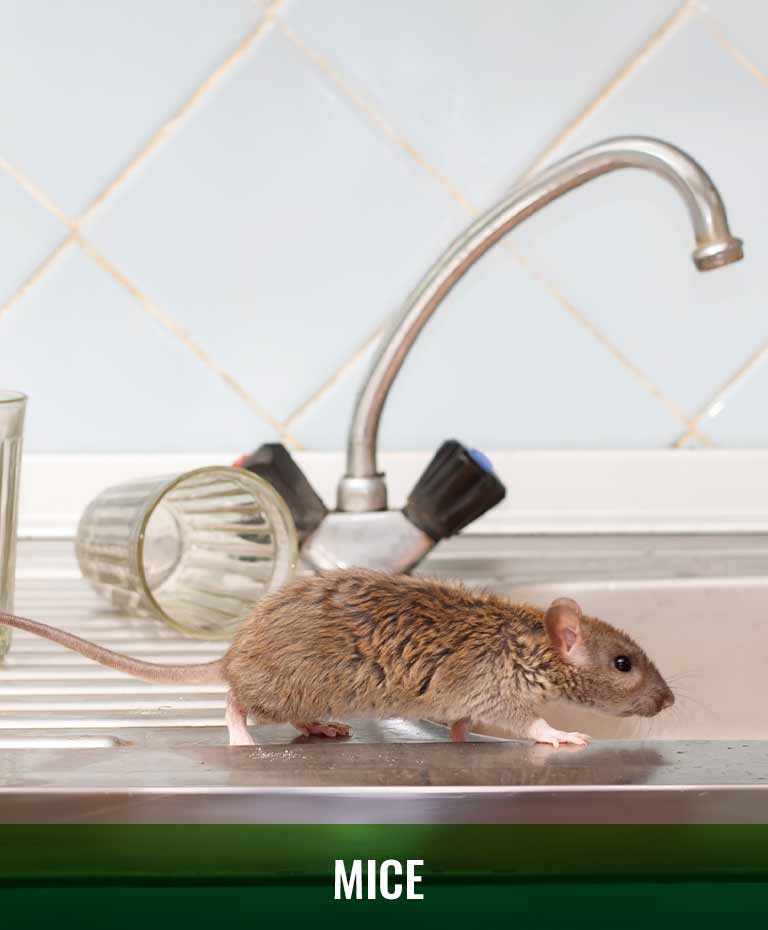 One of the smarter pests, bed bugs remain one of the most troublesome pests. Easily breeding to a population of 13,000 or more within the span of 6 months, bed bugs also like to use their small, flat size to their advantage, hiding in mattresses, bed frames, bedding, furniture, carpet, baseboards, and bedroom clutter.
A lasting pest, bed bugs can live up to a year without food. Bed bugs remain one of the world's best travelers as well, often spreading by happily attaching themselves to clothes, bags, jackets, and luggage.
While they can be hard to locate, they do leave signs of their unwelcome presence, from red, itchy bite marks on human skin to brown-black excrement stains on mattresses.
Of course, if you're suspicious of an infestation, the best thing to do is call us. After all, we won't let those bed bugs bite.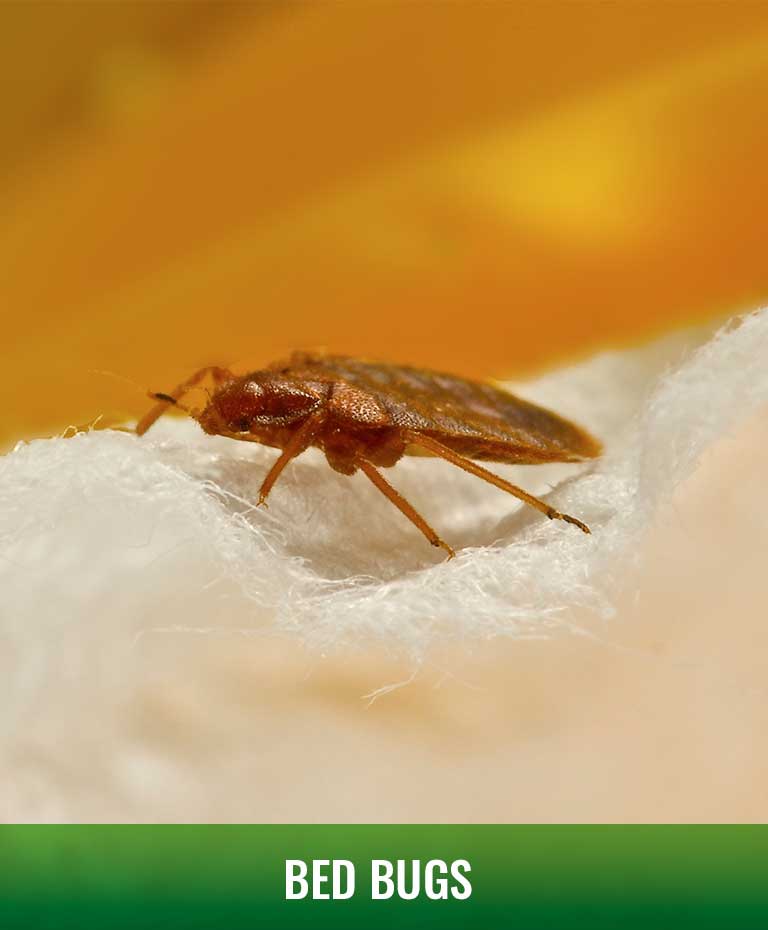 Beetles
While many beetles remain beneficial to humans, they do have the capacity to destroy various belongings, including clothes, furniture, and lumber. When dealing with an infestation, Green Piper can recommend a number of pest control solutions for managing their population.
Spider Mites
Tiny and terrible for plants, spider mites often go unnoticed until they begin to kill the vegetation they're living off of. A number of easy and effective methods exist to reduce the population of these pests.
Silverfish
Able to enter your house by a variety of methods – including through cracks in foundation, torn screens, and gaps around doors – silverfish remain infamous for their destructive eating habits: devouring paper, clothing, and sometimes even wallpaper.
Centipedes / Millipedes
Centipedes and millipedes, though vastly different in appearance, are often confused for one another: centipedes have one pair of legs per body segment, while millipedes have two; centipedes are quick and great at hiding, whereas millipedes move slowly and tend to burrow; centipedes bite and poison their prey, though their bite is typically not life threatening for humans, while some millipedes excrete a defensive fluid that can cause skin irritations. With those differences, however, both pests can be considered nuisances and many homeowners consider their presence unwelcome. So, long story short, consider them on their last legs when you call us.
Services
Whether you're a business in need of a maintenance plan or a homeowner looking for one-time pest removal services, we've got exactly what you need.
For pricing, please contact us for your free residential or business inspection.
One-Time Pest Removal
Have a pest problem? Consider it solved.
From mice to mites – and all those weird-legged bugs between – we offer effective, one-time removal of every imaginable pest. With this removal service, you'll receive a personalized strategy tailored to the needs of your home or business. This strategy accounts for everything, from keeping your pets safe to closing off entry points and applying various cleaning tricks.
When you call us, you also receive our guarantee, meaning we promise that pest will be gone for the season. If not, we'll come back and ensure your pest-free dreams come true.
Yearly Piper Protection Plan
Have a pest problem? No, like a serious pest problem that just won't go away? That's why we offer our maintenance program.
With this program, we check in with you. We make sure the pests are permanently kept at bay, and that no new insects or rodents have found their way into your home or business. This means, while you may call us initially for an ant or mouse problem, if another pest makes your home or business their home, you're always covered.
Part of this program includes becoming familiar with the structure, environment, and unique needs of whatever building for which you need protecting. From that understanding, we'll develop an individualized pest control program that's both functional and safe for you, your family, or your company.
To receive a customized pricing plan and strategy, contact us for your free residential home or business inspection today.
Methods of Pest Control and Removal
Something bugging you? Whether you've got ants, bees, spiders, or mice, we have the right method to remove them.
At Green Piper, we choose the method based on the pest, as well as the size of the infestation. Certain vermin require specific tactics to properly remove. Using the wrong tactic can actually create new problems or worsen an infestation.
Of course, you don't have to worry about that when you hire us.
Often used to control pests – usually those who have made their homes in your yard – chemical pest control remains a valuable pest control method.
This includes the use of pesticides and insecticides to manage pest populations and, ultimately, eliminate the problem. While we utilize a number of different chemical options, we always choose the best chemical for the problem pest. At Green Piper, we always include you in this decision as well and will always consider all the applicable options for every job. We also ensure that every chemical we choose is as environmentally friendly and responsible as possible.
This means that we'll kill the ants without killing your lawn. Furthermore, we always practice safe application and disposal of these chemicals, so you never have to worry about any harmful effects to your health or your yard.
At Green Piper, we both utilize and prescribe a number of different mechanical pest removal methods, including placing physical barriers and traps, as well as recommending personalized changes you can make in your home or business to provide unsuitable environments for all pests.
Barriers
Sometimes called exclusion, physical barriers prevent the insect or rodent from entering your home in the first place. While this method is best employed before the pests get into your house, placing barriers is one of the many steps you can take to prohibit the problem from happening again. This involves ensuring all doors and windows have proper seals, covering any vents and pipes, repairing cracks in the foundation, and securing all other possible points of entry. It can also include prescriptions to the flow of your home or business, including moving garbage or waste material away from the exterior of the building and removing any food, water, nesting, and breeding areas. The two basic goals of exclusion is to prevent the pests from being able to enter your business or home, as well as creating an uninviting environment. After all, if they don't want to enter your home, then they won't even try.
Traps
When pests do try to enter your home, they, unfortunately, sometimes succeed. Another mechanical pest control method is to set up traps. This includes both live and lethal traps. As always, we give the best recommendation for the pest problem at hand. We also personally install and manage each trap, taking careful note of any concerns you may have regarding their placement or purpose. With years of experience behind us as well, we know how to ensure that the pests use the traps, instead of simply avoiding them.
Sometimes, you just have to bait it out.
We have multiple types of bait at our disposal. This allows us to use the best bait for the pest, ensuring the complete eradication of your problem pest. With a number of tools and methods at our disposal – not to mention years of experience and training – we'll always use the best placement and procedures for your specific needs.
From considering any potential harm to pets or wildlife to taking into account any specific baiting concerns you have, at Green Piper we only use the best bait pest control methods for you and your home or business.
To receive a customized pricing plan and strategy, contact us for your free home or business inspection today.
About Us
Rooted in the Community
With deep roots in the Grande Prairie community, Green Piper is a local grassroots business aimed at providing environmentally safe and effective pest control solutions to you and the buildings in which you work and live.
Green Piper was founded by Dan Student, an experienced pest control specialist and a local, Grande Prairie man. From the beginning, Dan designed Green Piper around getting the job done. This means providing honest pest control services, keeping you up-to-speed on your problems, and presenting the best solutions possible.
With local work, comes local heart. With invested interest in what happens to the environment and the people who inhabit it, Green Piper guarantees to not only get rid of the pests, but to defend your home, your yard, your business, and your town in the process.
The Greener Pest Control Solution
It's in our name, and it's in everything we do. We aim to provide the most effective, environmentally sound pest control solutions possible. Not only do our methods and recommendations align with the greenest options available, we're constantly considering new techniques and tools to help reduce our environmental impact.
After all, it's about getting rid of the problem, not creating new ones.
Our Pest Control Guarantee
With Green Piper, you're guaranteed the best. We ensure the pests are gone every single time, or we'll come back.
After all, you've seen the bugs or rodents once. We know you don't want to see them again.
Why Us?
Finding pests in your home or business can be scary. From the overwhelming information online about (often ineffective) do-it-yourself removals to the fact that you likely don't want to live or work with bugs or mice, we aim to be an honest and knowledgeable source for all your pest control needs and questions. This means, beyond setting you up with an easy-to-follow strategy for your pest removal, we'll also answer any questions you have. And, we'll execute whatever methods we can to help deal with the pests and deal with them fast.
With us, you can go back to sharing your home and business with the people you love, not the pests you don't.
To receive a customized pricing plan and strategy, contact us for your free home or business inspection today.
Frequently Asked Questions